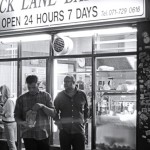 Thousands of words have poured from the battered Barkes keyboard over the years under his own name and as a ghostwriter for others. He has written for the Daily Express on a number of political and social issues. His first book 'The Dumbing Down of Britain' is available from Amazon: http://www.amazon.co.uk/Dumbing-Britain-Leading-Britains-Conversation/dp/1783960949
He has written a syndicated newspaper column that appeared in eight titles across the county of West Sussex. Starting off as the 'Barkes at Large' column, it ran for over seven years. The column covered a wide range of issues and topics and was often fiercely opinionated. This frequently resulted in strongly worded letters to the editor which further adds to the debate. Some columns resulted in media coverage elsewhere.
Radio 2 were keen to interview Barkes after his stinging attack on the naffness of external Christmas decorations and lights on the outside of people's houses, whilst Isle of Wight Radio interviewed him after his tongue in cheek suggestion that the island be sold to a Gulf state in order to reduce the UK's national debt. His column regarding knitting being introduced to the national curriculum was spotted by Vogue magazine in New York and tweeted to their readers and followers. He often writes about serious matters too.
Columns aside, Barkes has written pieces that have appeared in the national press on behalf of a number of politicians and opinion formers.
As a media consultant and communications professional he has written thousands of press releases, website copy, speeches, rebuttals, statements and briefing notes.